Nhà Sàn Studio xin hân hạnh giới thiệu triễn lãm sắp đặt mang tên Kẽ của nghệ sĩ Nguyễn Trần Nam. Đây là triển lãm thứ hai trong chương trình "EMERGING ARTIST PROGRAM – GƯƠNG MẶT MỚI CỦA NGHỆ THUẬT" của chúng tôi.

Kẽ là khe hở, là khoảng cách giữa hai vật thể đứng sát cạnh nhau, là lỗ hổng trên cánh cửa. Kẽ còn được dùng để chỉ vùng không gian mỏng manh và nhỏ bé - nằm giữa những đốt gân của lá, xen giữa những nhịp đập cánh của côn trùng. Kẽ, trong kẽ hở, nói tới những mảng mập mờ trong pháp luật và quy tắc – nơi người ta khéo léo luồn lách, nơi đúng/sai - đen/trắng khó có thể phân định. Nhẹ nhàng và thận trọng, ta bước tới gần tác phẩm của Nam, từ từ ngó qua khe hở, và thử bước chân vào cái thế giới nằm thăm thẳm đằng sau nó.

Chuỗi tác phẩm Kẽ bao gồm mười lăm điêu khắc. Với phần khung được làm từ dây kim loại, vỏ được bọc bằng dây thừng và da được phủ lên một lớp bùn đất, chúng vừa trông như những vật thể công nghiệp, vừa mang dáng dấp của những cái tổ. Bên trong bụng mình, mỗi cái tổ nâng niu một đoạn phim đen trắng chạy tuần hoàn liên tục. Từng chút một, chúng chậm chạm di chuyển, phát ra thứ ánh sáng xanh xao từ những góc tối của Nhà Sàn.

Nguyễn Trần Nam đặt các điêu khắc của mình vào những không gian tối, trong những gian phòng thường bị bỏ ngỏ. Ống kính của anh tập trung vào những vùng trên cơ thể thường bị lãng quên. Đó là đường nứt trên ngón tay, chậm rãi đóng vào, mở ra. Là khuỷu tay, nhẹ nhàng co lên, kéo xuống. Là đầu lưỡi, thong thả lướt qua, đưa lại… Từ những di chuyển tinh tế này, ta nhìn thấy tình dục, ta cảm thấy những ước muốn khôn cùng, và ta tìm thấy một cách nhìn nhận, quan sát mới mẻ, khác lạ. Kết hợp yếu tố kĩ thuật với yếu tố tự nhiên, Nguyễn Trần Nam đã hòa hợp được những ngôn ngữ và không gian xa lạ, mang chúng lại gần với nhau hơn.

Nguyễn Trần Nam sinh năm 1979 tại Hưng Yên. Anh chuyển tới Hà Nội khi lên bảy tuổi, và tốt nghiệp trường Đại học Mỹ Thuật Hà Nội vào năm 2003. Là một nghệ sĩ sử dụng đa chất liệu, từ video, sắp đặt, tới hội họa và trình diễn, tác phẩm của Nam đã được triển lãm tại Chuỗi Video Cadaver Exquisite (Tuần Châu Á Đương đại, New York, Mỹ) và Hanoi Link: A Preview (Melbourne, Úc). Tại Việt Nam, anh đã tổ chức triển lãm cá nhân mang tên Mơ hồ tại Ryllega, và đã tham gia vào các triển lãm nhóm như 10+ tại Nhà Sàn Studio, Ba ngày – Ba nghệ sĩ tại L'Espace Hà Nội, dự án phim ngắn X-Giây tại Viện Goethe Hà Nội và Vào chợ tại Trung tâm Nghệ thuật Việt, Hà Nội.

"Kẽ" là triển lãm thứ hai trong chương trình: "EMERGING ARTIST PROGRAM – GƯƠNG MẶT MỚI CỦA NGHỆ THUẬT". Cùng với Nguyễn Trần Nam, năm nghệ sĩ khác bao gồm Lê Huy Hoàng (tháng 04/2010) và tiếp theo là Nguyễn Phương Linh, Lại Thị Diệu Hà, Nguyễn Trinh Thi và Nguyễn Văn Phúc sẽ tổ chức triển lãm cá nhân tại Nhà Sàn Studio trong năm 2010.

Chương trình "EMERGING ARTIST PROGRAM – GƯƠNG MẶT MỚI CỦA NGHỆ THUẬT" được thực hiện với sự tài trợ hào phóng của quỹ trao đổi và phát triển văn hóa của đại sứ quán Đan Mạch CDEF tại Hà Nội.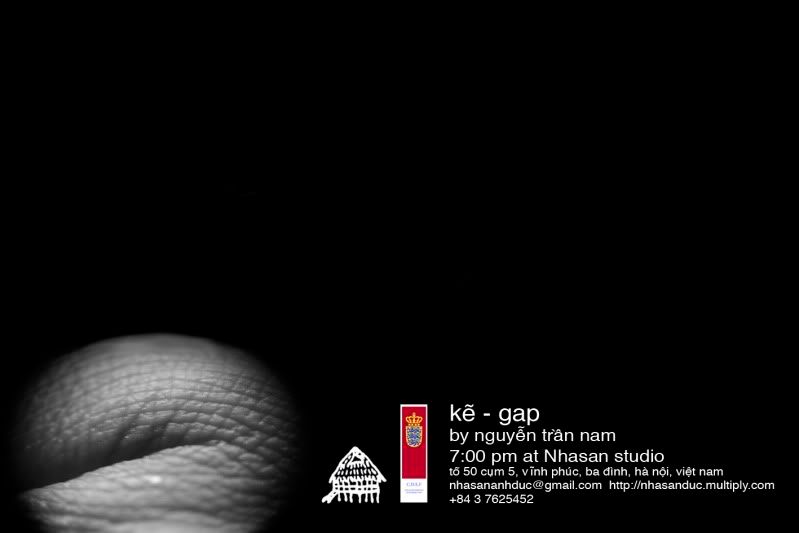 Nguyen Tran Nam " KE // GAP" 20-5-10

Nhasan studio is excited to present Nguyen Tran Nam's site-specific video installation Ke // Gap, the second installment of our 2010 "EMERGING ARTIST PROGRAM".

A Ke is a gap, a crack between closely spaced things, a peephole in a door. The word applies to the microscopic - the delicate space between the veins on a leaf or the crystalline surface of an insect's wing that can fill with light. Ke is also a loophole in the law. Ke ho refers to the ability to navigate the underbelly of society's rules, slyly weaseling through spaces where laws cannot be enforced. Nguyen Tran Nam summons us, with a quiet deliberation that we pause, peer through the ke, and attempt to slip through into a shadowed, gray terrain.

The work is comprised of a suite of fifteen sculptures. They are part mechanized creature, and part hive made from wire armatures, swathed in string and caked with a mud and paper pulp. Each hive cradles, within its bellied interior, a unique black and white video shown on a continuous loop. The hives grow from beneath the beams, projecting a dim glow in the shadowed corners of Nhasan.

Nguyen Tran Nam has installed his sculptures in the dark places in a room that are often forgotten. His camera lens focuses on the parts of the body that people tend to forget. He gives us a nearly microscopic insect-eye view. The crevice between a thumb and finger, opening and closing slowly. The sleepy bend of an elbow. The lick of a tongue. In these subtle movements we find sex, we find un-muted desire and a new way of seeing. Embedding the digital into an earthen dwelling, Nguyen Tran Nam merges disparate language and place.
Nguyen Tran Nam was born in Hung Yen province in 1979. He moved to Hanoi at the age of seven, and graduated from the Hanoi Fine Arts University in 2003 with a degree in painting. A multi-disciplinary artist working in video, installation, painting and performance, Nam's work has exhibited at the Cadaver Exquisite Video Series during the Contemporary Asian Art Week (New York City, USA), and in Hanoi Link: A Preview (Melbourne, Australia). In Vietnam he held the solo exhibition Indefinitely at Ryllega gallery, and has participated in group shows such as "10+" at Nhasan studio, X-seconds film project at Goethe Institute Hanoi, Three Days - Three Artists at L'espace Hanoi, and Go in the Market at Viet Art Center, Hanoi.

Ke // Gap is the second installation in our "EMERGING ARTIST PROGRAM". A total of six artists, Le Huy Hoang (April 2010), and upcoming, Nguyen Phuong Linh, Lai Thi Dieu Ha, Nguyen Trinh Thi and Nguyen Van Phuc will have solo exhibitions at Nhasan studio over the course of 2010.

The EMERGING ARTIST PROGRAM is made possible with generous funding from the Culture Development and Exchange Foundation of the Danish Embassy in Hanoi (CDEF).